What are the differences between Janitorial Services Vs. Commercial Cleaning Companies?
When comparing a Janitorial Services Vs. Commercial Cleaning Companies, it is important to define what exactly each are. While they are similar businesses, from a risk management perspective they do have some distinct differences. This is why they are classified differently for insurance purposes and why a business owner in one or both of these industries should think about the unique risks each type of business faces. Here is a description of what exactly these businesses are and how a business owner should prepare their insurance and risk management plans for ultimate success.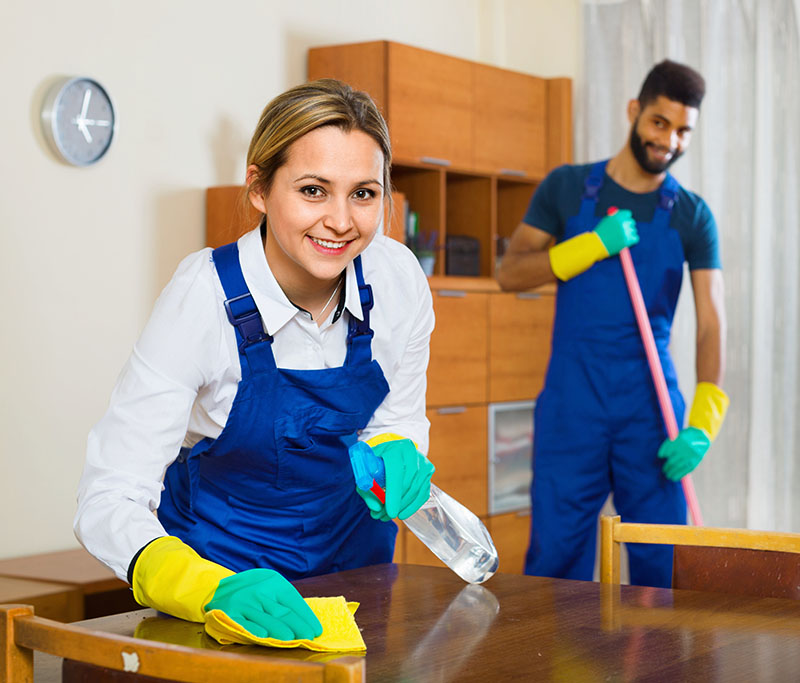 What is a Janitorial Services Business?
A janitorial services business provides basic cleaning maintenance to the interior of premises for commercial and industrial clients. These services are typically provided on a daily, weekly, or biweekly basis.  Activities include in this type of service include taking out the trash, sanitizing the bathrooms, kitchens, and break rooms so the business is ready to receive employees and customers. The contract may also call for regular vacuuming and dusting of furniture or bookshelves. Commonly it is an exclusion for janitorial services companies to come in contact with computers or other electronic devices. If your business does interact with electronics, it is important to tell your insurance agent. Electronics are frequently exclude from many insurance packages in this industry.
What is a Commercial Cleaning Company?
Commercial cleaning service companies handle more in-depth and heavier cleaning tasks.  These services occur on a regular basis throughout the year, but not on a daily or weekly basis. These types of services likely include carpet cleaning, power washing, window washing, tile and grout cleaning or even furniture and upholstery cleaning.
How are Janitorial Services Vs. Commercial Cleaning Companies different?  
The main difference between Janitorial Services Vs. Commercial Cleaning Companies is the frequency of the service and the detail with which each service entails. Janitorial services deals more with the regular maintenance and cleanliness of the facility where commercial cleaning deals more with periodical deep cleaning of a facility.
What do Janitorial Services Vs. Commercial Cleaning Companies need to be concerned about from a risk management stand point?
Janitorial Services Vs. Commercial Cleaning Companies both face risks related to the work the employees do on a daily basis. Three areas  both janitorial services and commercial cleaning companies face risk are related to employee driving exposure, common general liability claims, and employee dishonesty.
Employee driving exposure results when a business has more than one facility that employees travel to throughout the work day. The time employees spend travelling from job to job is time the business is responsible for the liability to third parties for damage that occurs in traffic accidents.
Common general liability claims results most often from slips, trips, and falls that occur as a result of the cleaning activity taking place. Cleaning after hours eliminates many of these risks, but if your employees do clean facilities when they are open to the public, it is important to train your employees well about how to warn customers of a tripping hazards. It is always more important to prevent a trip from happening in the first place than to try to limit the damage after an incident has taken place.
Employee dishonesty is the final common risk Janitorial Services Vs. Commercial Cleaning Companies face. The employees frequently work at a third party facility when none or few of the businesses employees are present. Often times there are few or only one of the cleaning companies employees present. Unfortunately, this lack of supervision is too much of a tempting situation for many employees. Preparing for the day when your employee steals from a client will go a long way towards the success of your business when this situation does occur. Securing a comprehensive insurance package will help your business with the costs of such a situation. It is equally important to be prepared for the day when your employees are innocent and being accused  of theft. When something shows up missing, the cleaning crew who is here by themselves after hours are an easy target for blame. Establishing a deep relationship with both your employees and your clients in order to deal with these situations in order to get the best outcome for all parties involved.
What types of Insurance do Janitorial Services Vs. Commercial Cleaning Companies Businesses need?
The risks faced by Janitorial Services Vs. Commercial Cleaning Companies are all unique to each and every business, but there are certain insurance policies that all businesses in this industry should consider.
✓ General Liability Insurance
✓ Business Personal Property
✓ Hired and Non-Owned Auto
✓ Workers Compensation Insurance
✓ Commercial Crime/Employee Dishonesty
✓ Inland Marine Coverage
Partnering with an experienced independent insurance agent is a great way to limit the time it takes to find insurance coverage and insures that your agent is getting you the best value for your insurance coverage. Independent insurance agents are not tied to one carrier, this allows them to acquire a quote from multiple carriers and make those carriers compete for your business. If executed properly, an independent agent should be able to get your business better coverage at the most competitive rates around. Also, they can give you insight into the positives and negatives of each carrier that a captive agent cannot tell you about their carrier.
Common Classification codes for Janitorial Services Vs. Commercial Cleaning Companies 
SIC Business Insurance Codes:
7349: Building Cleaning and Maintenance Services
NAICS Liability Classifications:
561720: Janitorial Services
561210: Facilities Support Services
561790: Other Services to Building and Dwellings
Business ISO General Liability:
96816: Janitorial Services
Common Workers Compensation Class Codes:
9014: Janitorial Services by Contractors—No Window Cleaning Above Ground Floor